What is the point of a lesson observation? To judge? To analyse? To inform? Perhaps. We think lesson observations involving a person or single point of view are so fraught with challenges that something must change!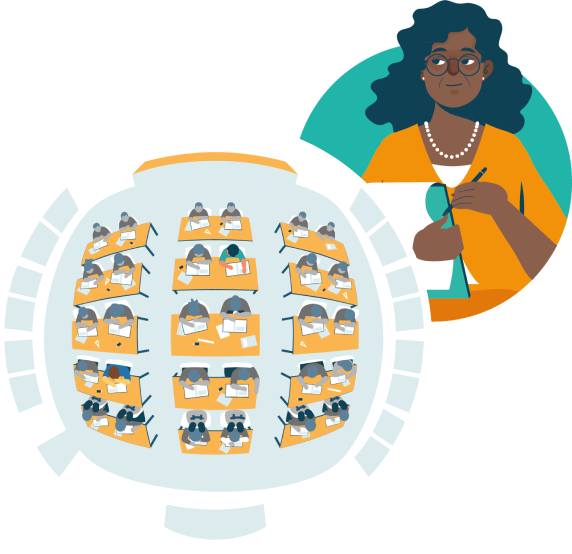 Lesson observations, learning walks, drops-in and the like all face the same problems. They're hard to schedule, anxiety inducing, changed by the observer's presence and only grant those involved a snapshot of what it's like to be in that teaching and learning environment day-to-day. The teacher struggles to benefit and the observer will have, at best, a partial sense of what they were there to find out. This risks a vital tool in a school's improvement toolbox generating despondency rather than actionable insights. 
It doesn't have to be that way…
The Problem with Traditional Lesson Observations
Have you ever received or performed a lesson observation in which you are completely satisfied with the outcome? It's fair to say that lesson observations have mixed reception and sometimes lack clarity of purpose. Many times, they are treated as a box-ticking exercise to ensure processes are being followed or as a performance management tool. Sometimes they're intended to help teachers get better at particular skills.
The trouble is that lesson observations are often considered the only way for teachers and others to get a sense of what teaching and learning are like in their classrooms. But at best they provide a mere snapshot of a classroom experience in which the behaviours of both teachers and pupils are affected through the presence of the observer. Observations have to happen at a time that fits in with everyone, making it very unlikely that feedback on that lesson or those drop–ins will be inclusive enough to help upskill the teacher across their subjects or age brackets.
What if there was a better way to achieve the aim of lesson observations? A way that puts teachers in control? That gave them the ability to really understand what was going on in their classroom in a productive and helpful way? A way that allows them to see for themselves what its like to be a student in their classroom, deeply reflect on their performance and understand their practice like never before?
With ONVU Learning that's exactly what you get! You can give your traditional lesson observations the boot and see teacher confidence and performance grow across your school like never before.
ONVU Learning's REVOLUTIONARY APPROACH TO lesson Observation
ONVU Learning provides a truly unique teacher support and development experience. Using cutting-edge 360° camera and studio-quality microphone technology, teachers and their peers can see and hear the entire classroom, unlocking otherwise lost or unseen insights that inform their practice.
ONVU Learning gives the teacher and their peers the benefit of being able to look back at moments from their secure recordings for review when it's useful. Feedback can be supported with insight from their footage and analysed in a way that makes a difference. Recordings eliminate the need for teachers to remember what happened during the observation and reflective discussions can start from a position of shared and collaborative observation.
Observing what happens in classrooms provides so much value to teachers' development. We will help you to make those occasions more useful, lower stakes and more focused, streamlined and purposeful. See your whole school improve through investment into your teachers.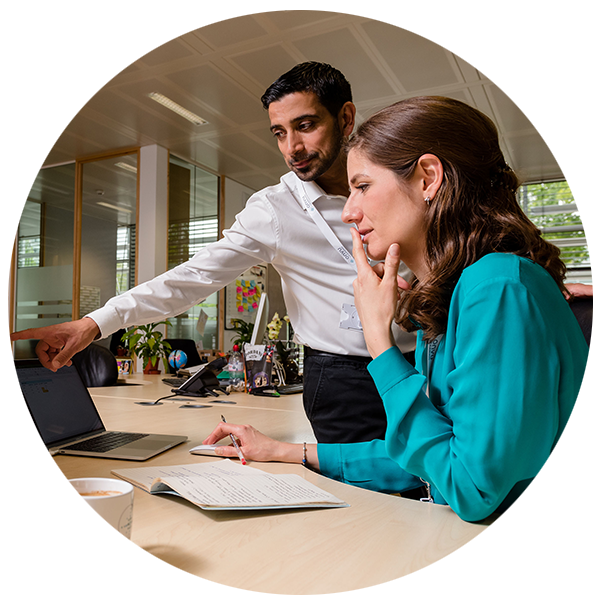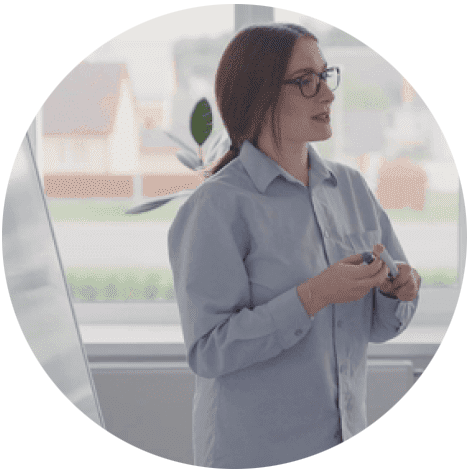 AUTHENTIC LESSON REVIEWS AT A TIME TO SUIT YOU
It's well documented that both teachers and students behave differently when a third party is in the room. ONVU Learning footage provides a completely authentic overview of the classroom experience so you can see and reflect on what really happened and the difference it made to students' learning.
ONVU Learning means that you no longer need to juggle busy teacher schedules or arrange for cover teachers for observing staff. Your teachers can use ONVU Learning to boost their ad-hoc or formal teacher CPD or to share clips of good practice directly with peers and mentors for positive and constructive feedback for improvement.
ONVU Learning enables teachers to select key moments and clips that can be securely accessed by colleagues. They can even be located elsewhere , accessing them at a time that suits them best, so now there is no need to be in the room at the same time. This eliminates scheduling challenges, the need to arrange cover teachers. and clears the way for teacher-driven sustainable school improvement. 
IMPROVING Teacher Well-Being
ONVU Learning puts development and support in teachers' hands, offering them the opportunity to take control of their own progress, whilst still operating in a school or Trust-wide framework.
Teachers have control over what footage they share, allowing them to see, hear, and assess their teaching to make necessary improvements.
This shift has fostered a shared approach to classroom practice development, enabling teachers to comfortably showcase their strengths and seek advice from colleagues who understand the local context. It has proven to enhance their well-being and professional growth.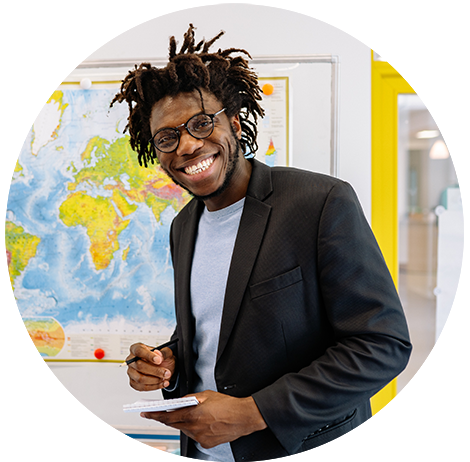 Every child has a right to learn in happy, safe and effective learning environments. ONVU Learning gives educators a unique opportunity to watch how their teaching practices impact on all their students' learning behaviour. 
Seeing, hearing and addressing every child's individual learning experience in class can be almost impossible for teachers and classic observers. Our unique 360° video technology brings all students into focus including those that may be out of the field of view of a traditional lesson observation. 
Being able to see learning occurring through video, teachers can better identify students who may be struggling or suffering from a disconnect in the lesson. No child is left behind.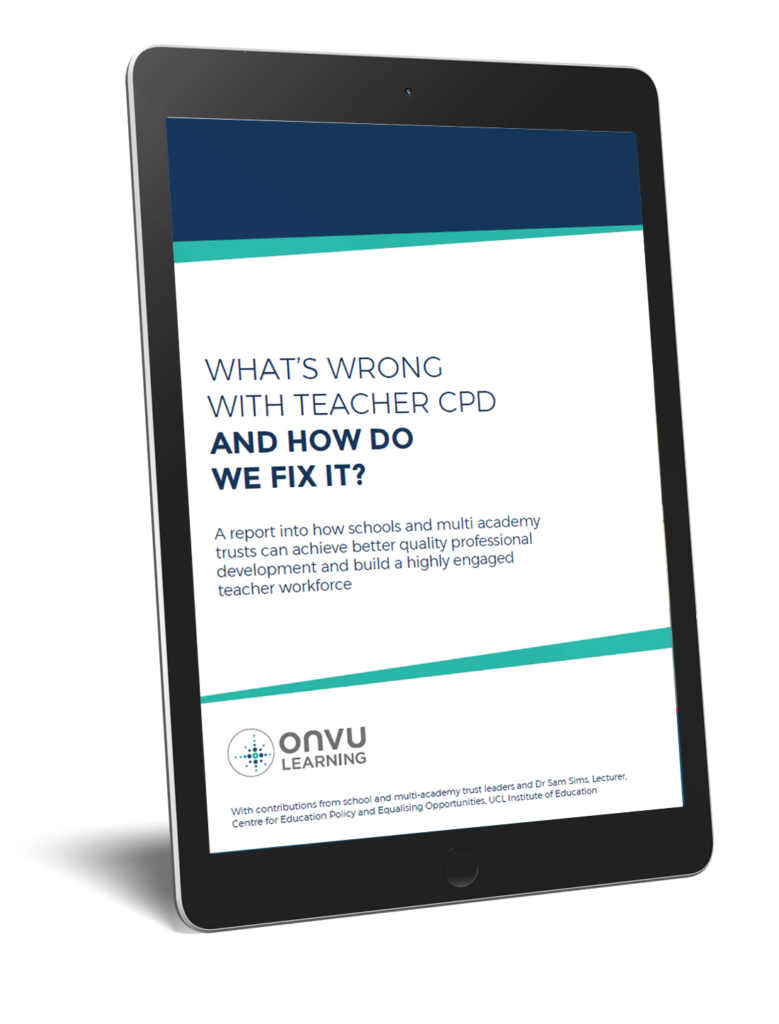 WHAT'S WRONG WITH CPD AND HOW TO FIX IT
An insightful and informative report exploring how schools and multi academy trusts can achieve quality professional development and build a highly engaged teacher workforce.
With contributions from influential education leaders, it's a read you won't want to miss.

Supports a targeted, reflective lesson observation approach

Teacher controlled sharing of video clips

Identify opportunities for development across schools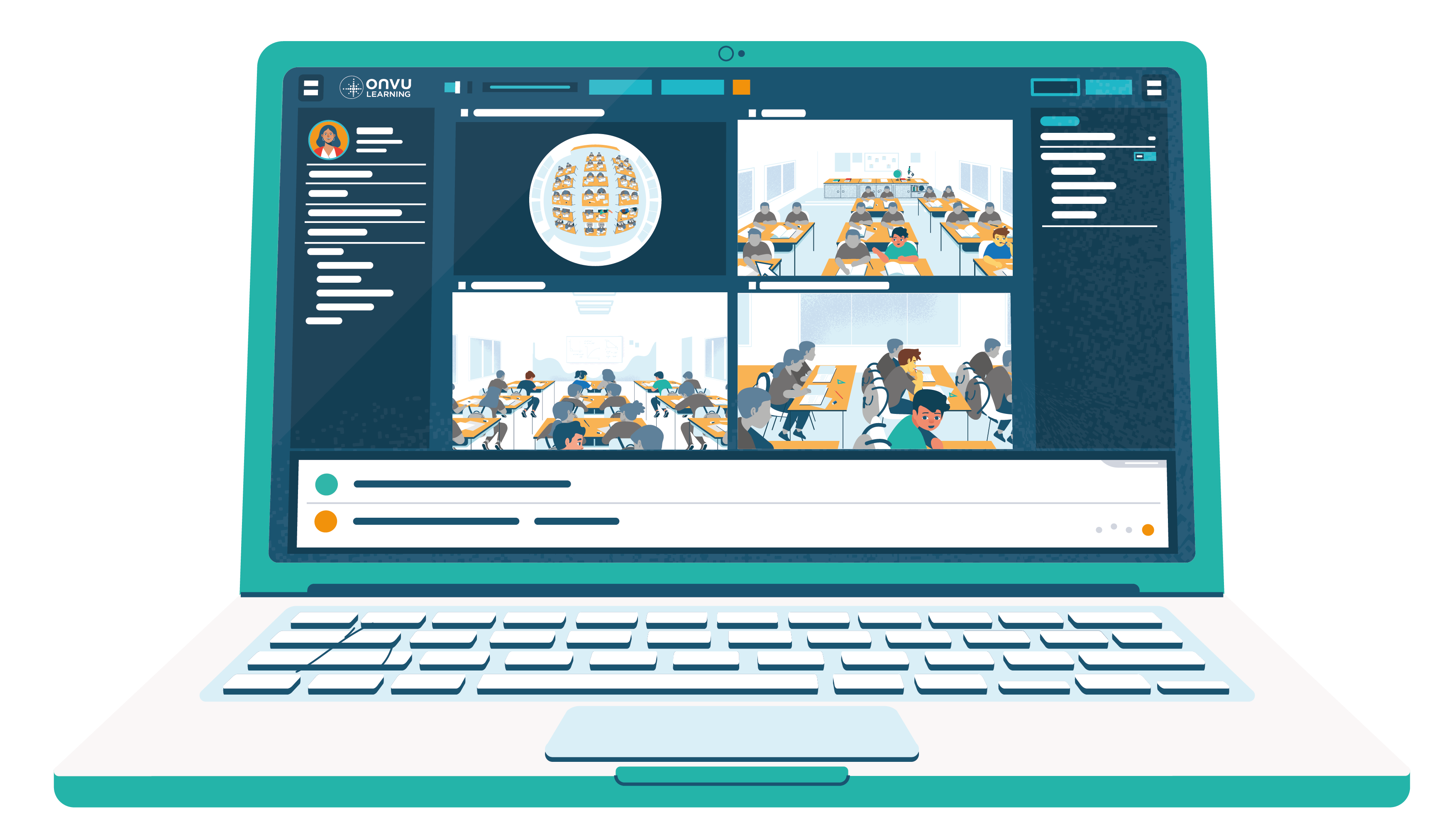 A lesson capture solution, made simple.
Discover more about our lesson observation and teacher training solution.